Valerie Tarasuk
Department of Nutritional Sciences
PhD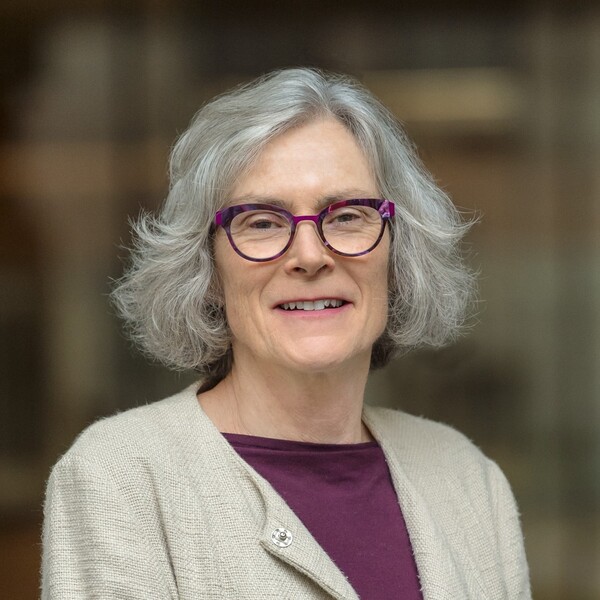 Location
Medical Sciences Building, 5th Floor, Room 5366A
Address
1 King's College Circle, Toronto, Ontario Canada M5S 1A8
Research Interests
food insecurity, food fortification, food policy, public health nutrition
Appointment Status
Primary
Accepting
Not accepting new students
Qualification
PhD, Department of Nutritional Sciences, University of Toronto (1991)
MSc, Department of Nutritional Sciences, University of Toronto (1987)
BASc, Applied Human Nutrition, University of Guelph (1985)
BEd, Elementary Education, University of Ottawa (1977)
BA, Mathematics and Philosophy, Mount Allison University (1975)
At a Glance
Dr. Tarasuk's early work helped lay the foundation for food insecurity monitoring in Canada, and in recent years, her research has utilized monitoring data to advance knowledge on food insecurity in this country.

Dr. Tarasuk and colleagues have exploited the opportunities afforded by the linkage of food insecurity monitoring data with health administrative records to conduct a series of studies delineating the health care utilization patterns and health care costs associated with food insecurity and elucidating its relationship to morbidity and premature mortality.

Their work has also advanced our understanding of intervention, showing that food insecurity is not managed by community-based food charity, but that this problem is sensitive to federal and provincial policy interventions that increase the financial resources of low-income groups.

PROOF's highly effective knowledge translation work has helped propel food insecurity onto the federal policy agenda; it is now an integral component of the National Food Policy and Poverty Reduction Strategy.
---
Research Synopsis
Dr. Tarasuk leads an interdisciplinary research program called PROOF. Established in 2011 with funding from CIHR, this program was launched to identify policy interventions to reduce household food insecurity in Canada and establish an effective knowledge translation platform. Research by Dr. Tarasuk and her team has elucidated the scope, nature and health implications of food insecurity in Canada, evaluated the effectiveness of community responses to food insecurity (e.g., food banks), and explored how the prevalence and severity of food insecurity are impacted by public policies and programs. PROOF also regularly publishes status reports (using data from Statistics Canada), factsheets, and infographics on household food insecurity to raise awareness and understanding of this problem. In addition to food insecurity, Dr. Tarasuk's research group has conducted studies concerning Canadian food policy (e.g., discretionary food fortification, nutrition labelling) and nutrition inequities.
---
Recent Awards and Distinctions (Selected)
Fellow, Canadian Nutrition Society (2021)
Honorary Degree of Doctor of Science, Queen's University (2018)
Earle Willard McHenry Award for Distinguished Service in Nutrition, Canadian Nutrition Society (2017)
---
Recent Publications
Idzerda L, Gariépy G, Corrin T, Tarasuk V, McIntyre L, Neil-Sztramko S, Dobbins M, Snelling S, Jaramillo Garcia A. What is known about the prevalence of household food insecurity in Canada during the COVID-19 pandemic: a systematic review. Health Promot Chronic Dis Prev Can. 2022 May 11;42(5):177-187. English, French. doi: 10.24095/hpcdp.42.5.01. Epub 2022 Mar 16. PMID: 35420755.
Luongo G, Tarasuk V, Yi Y, Mah CL. Feasibility and measurement error in using food supply data to estimate diet costs in Canada. Public Health Nutr. 2022 Mar 9:1-33. doi: 10.1017/S1368980022000532. Epub ahead of print. PMID: 35260223.
Men F, Urquia ML, Tarasuk V. Pain-driven emergency department visits and food insecurity: a cross-sectional study linking Canadian survey and health administrative data. CMAJ Open. 2022 Jan 11;10(1):E8-E18. doi: 10.9778/cmajo.20210056. PMID: 35017172; PMCID: PMC8758177.
Men F, Tarasuk V. Classification Differences in Food Insecurity Measures Between the US and Canada: Practical Implications to Trend Monitoring and Health Research. J Nutr. 2021 Dec 30:nxab447. doi: 10.1093/jn/nxab447. Epub ahead of print. PMID: 34967852.
Hussain Z, Tarasuk V. A comparison of household food insecurity rates in Newfoundland and Labrador in 2011-2012 and 2017-2018. Can J Public Health. 2021 Nov 2. doi: 10.17269/s41997-021-00577-6. Epub ahead of print. PMID: 34727344.

Tarasuk V

, Brassard D. The effect of consuming voluntarily fortified food and beverages on usual nutrient intakes in the Canadian population. Food Nutr Res. 2021 Jun 4;65. doi: 10.29219/fnr.v65.5256. PMID: 34650396; PMCID: PMC8494267.
Hutchinson J, Tarasuk V. The relationship between diet quality and the severity of household food insecurity in Canada. Public Health Nutr. 2021 Sep 23:1-14. doi: 10.1017/S1368980021004031. Epub ahead of print. PMID: 34551845.
Men F, Urquia ML, Tarasuk V. Examining the relationship between food insecurity and causes of injury in Canadian adults and adolescents. BMC Public Health. 2021 Aug 17;21(1):1557. doi: 10.1186/s12889-021-11610-1. PMID: 34399730; PMCID: PMC8367649.
Reeves A, Loopstra R, Tarasuk V. Family policy and food insecurity: an observational analysis in 142 countries. Lancet Planet Health. 2021 Aug;5(8):e506-e513. doi: 10.1016/S2542-5196(21)00151-0. PMID: 34390669; PMCID: PMC8374132.
Dhunna S, Tarasuk V. Black-white racial disparities in household food insecurity from 2005 to 2014, Canada. Can J Public Health. 2021 Oct;112(5):888-902. doi: 10.17269/s41997-021-00539-y. Epub 2021 Jun 15. PMID: 34129216; PMCID: PMC8204605.
---
In the News
Canadians going hungry: How inflation's hitting some harder than others. CTV News. May 19, 2022.
Inflation could put more Canadians at risk of going hungry, say experts. CP24. May 19, 2022.
Soaring cost of living, eroding affordability top of mind for Ontario voters. The Canadian Press (published by CTV News Toronto, Toronto Sun, Winnipeg Free Press). May 8, 2022.
Systemic change required to fix Canada's food security crisis. Calgary Journal. April 5, 2022.
Food as medicine: Programs, doctors look to fill nutrition prescription. The Globe and Mail. February 26, 2022.
A hungry Highlands: food banks respond to the growing need. The Highlander (Haliburton, ON). January 5, 2022.
A decade of proof on how to tackle food insecurity in Canada. The Hill Times. December 28, 2021
A Look Back at 10 Years of PROOF. Department of Nutritional Sciences News. Dec 15, 2021
Food drives are not the answer to poverty and hunger. Toronto Star. December 5, 2021
Experts say the ongoing need to end food insecurity has intensified amid the COVID-19 pandemic. CityNews. November 26, 2021
What happened to the Liberals' concern about hunger and food insecurity?. Maclean's. November 23, 2021
To eliminate food insecurity, we must dismantle anti-Black racism. Healthy Debate. October 26, 2021
Rising inflation caused by COVID-19 will be struggle for many Canadians: expert. CTV News. October 20, 2021
How a province can help put food on tables. CBC News. June 18, 2021.
P.E.I. made history by setting a timeline for eliminating food insecurity: Here's how they can achieve it.. The Guardian P.E.I. June 17, 2021
Policies on minimum wage, income tax have a direct effect on who goes hungry: researcher. CBC News. May 29, 2021.
P.E.I. plan to eliminate food insecurity 'precedent setting'. CBC News. April 26, 2021.
Food banks don't reduce food insecurity, so why did the federal government give them $200 million in emergency aid?. The Toronto Star. January 26, 2021.
Food banks aren't the answer to hunger, researchers say. National Observer. December 8, 2020
Food banks can't adequately address COVID-19 food insecurity. Policy Options. April 28, 2020
Want to lower food insecurity rates? Experts say systemic change is needed. CBC News. January 18, 2021.
Food insecurity is hurting Canadians' physical and mental health, social life, and ability to find work. The Globe and Mail. September 29, 2020.
Food security experts warn of supply shortages, higher prices due to global pandemic. CBC News. April 3, 2020
More than 40 per cent of food bank programs close amid pandemic, city says. CTV News. April 6, 2020.
Many Islanders still struggle to buy enough healthy food, report says. CBC News. March 21, 2020
More than 4.4 million Canadians say they feel food insecure due to financial constraints: report. The Globe and Mail. March 12, 2020.
N.L.'s fall from grace on food insecurity record 'disturbing'. CBC News. February 22, 2020.
Single parents hit hard by food insecurity. CBC News. February 19, 2020
Why is food insecurity such a big issue in N.L.?. CBC News. February 17, 2020
Trouble affording food linked to higher risk of premature death in Canada. CTV News. January 20, 2020
---
Current Lab Members
Andrée-Anne Farfard St-Germain – Postdoctoral Fellow
Tim Li - Research Coordinator